The first part of my Fable Tribute project is taking form. I'll explain a litte about the project:
The concept behind Fable has inspiered alot of ideas for my part, and the Role Playing aspect of it is solid: "Be who the heck you want to be, but take the damn consequences."
What I've seen the games do, compared to what has been promised(in the past), has always left a wealthy amount of players dissapointed.
In my world though, the concept behind it is what matters, and is what sparks ideas and creativity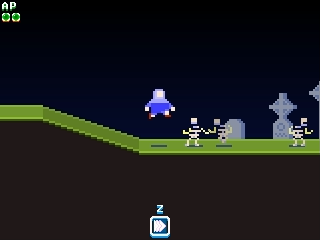 Lychfield Graveyard(Early Screenshot)
I've taken the oppertunity to start a small tribute project, which is aimed to be released before the launch of Fable (Lucky-Number) 3.
The plan is to bring some missed features(Real-time Vegetation Growth, Weapon Pickups), aswell as features from the previous games(Body morphing, Moral choices, Crumbtrail), into a simplistic 2D retro-styled game. This is a tribute game, and may not capture Fable's magic, but it'll try to capture some of it's basic concepts.

Skinny & Tall

Strong & Heavy

Sumo Wrestler
Later this week or the next, I'm going to show more of the project, and perhaps provide a small playable demo.